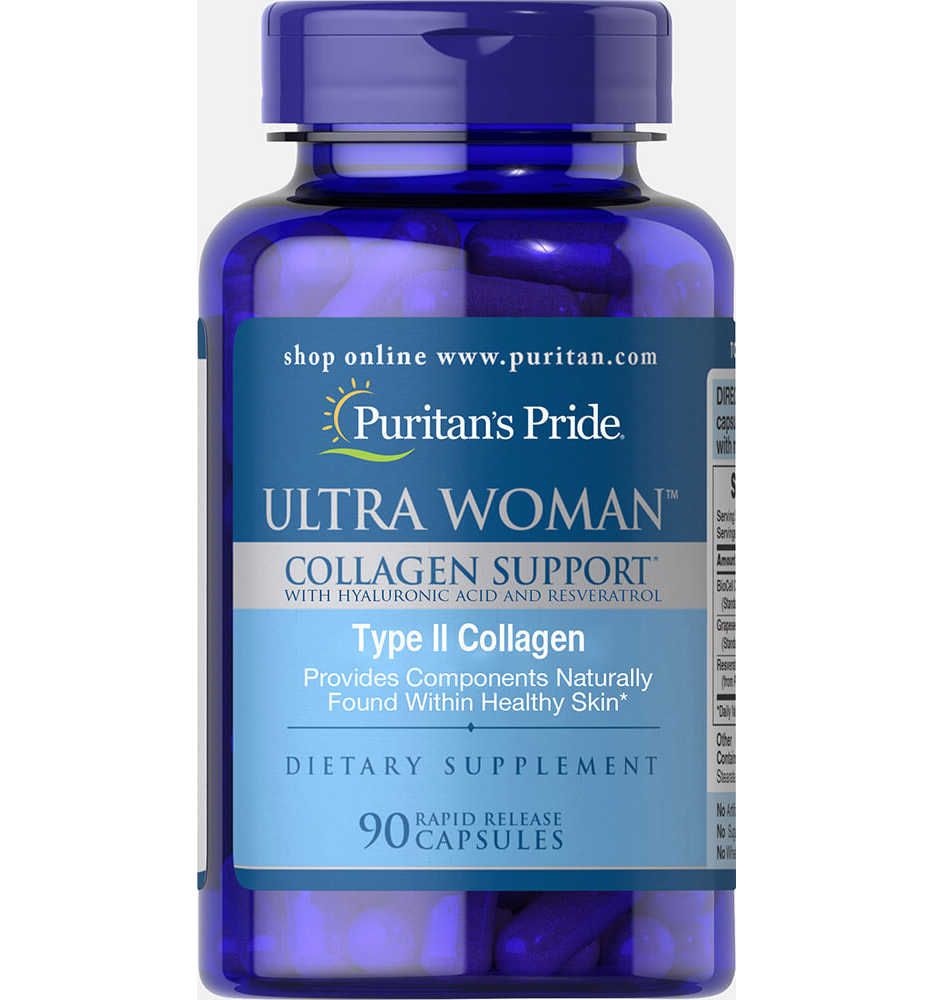 รหัส : 050495
จาก 1,080.00 บาท ลดทันที 300 บาท
ราคา 780.00 บาท
Puritan's Pride Ultra Woman™ Collagen Support 1000mg with Hyaluronic Acid 90 Rapid Release Capsules
Puritan's Pride Ultra Woman™ Collagen Support 1000mg with Hyaluronic Acid 90 Rapid Release Capsules ผลิตภัณฑ์เสริมอาหารโดยมีส่วนประกอบคือ คอลลาเจนจาก BioCell Collagen II® รวมกับกรดไฮยาลูโรนิค ช่วยส่งเสริมสุขภาพข้อกระดูกและเส้นเอ็น สารเรสเวอราทรอลในสูตรจะช่วยสารต้านอนุมูลอิสระ ป้องกันและต้านการอักเสบ อีกทั้งยังช่วยบำรุงผนังหลอดเลือดจากสารสกัดจากเมล็ดองุ่น สูตรนี้ไม่เพียงแต่บำรุงข้อกระดูกหรือเส้นเอ็นเท่านั้น แต่ยังรวมไปถึงการช่วยต้านอนุมูลอิสระที่กระทบทั่วร่างกายทั้งผิวพรรณ ดวงตา หลอดเลือดและประโยชน์เรื่องชะลอความแก่ได้อีกด้วย
Standardized to contain 10% Hyaluronic Acid.
Also includes Resveratrol for antioxidant support.**
Rapid release capsules.
Ultra Woman™ Collagen Support is a dietary supplement that is made up of a complex of nutrients. Each serving includes 1,000mg of BioCell Collagen II® which is standardized to contain 10% Hyaluronic Acid, as well as 200mg of Grapeseed Extract and 100mg of Resveratrol. Includes 90 rapid release capsules.
BioCell Collagen II® is a registered trademark of BioCell Technology, LLC.
---
Supplement Facts
Serving Size 2 Capsules
Servings Per Container 45
Amount Per Serving
% Daily Value
BioCell Collagen II®
1,000 mg (1 g) *
(Standardized to contain 10% Hyaluronic Acid, 100 mg)
Grapeseed Extract
200 mg *
(Vitis vinifera)
(Standardized to contain 50% (polyphenols, 100 mg)
Resveratrol
100 mg *
(from Polygonum cuspidatum (root))
*Daily Value not established.
Directions: For adults, take two (2) capsules two times daily, preferably with meals.

Other Ingredients: Gelatin, Vegetable Cellulose. Contains <2% of: Silica, Vegetable Magnesium Stearate.

WARNING: If you are pregnant, nursing, taking any medications or have any medical condition, consult your doctor before use. Discontinue use and consult your doctor if any adverse reactions occur. Not intended for persons under the age of 18. Keep out of reach of children. Store at room temperature. Do not use if seal under cap is broken or missing.
No Artificial Color, Flavor or Sweetener, No Preservatives, No Sugar, No Milk, No Lactose, No Soy, No Gluten, No Wheat, No Yeast, No Fish. Sodium Free.
คำเตือน
ผลิตภัณฑ์ ดังกล่าวข้างต้นไม่ใช่ ผลิตภัณฑ์ที่จัดว่าเป็นยา จึงไม่ได้มีสรรพคุณในการรักษาโรคใดๆได้ และการได้รับสารอาหารต่างๆควรได้จากการบริโภคอาหารหลักที่หลากชนิด ครบทั้ง 5 หมู่ เป็นสัดส่วนที่พอเหมาะ ผลการใช้อาจให้ผลที่แตกต่างกันในแต่ละบุคคล ควรเก็บไว้ในที่ร่มให้พ้นแสงแดดและความร้อน และ โปรดอ่านคำเตือนบนฉลากผลิตภัณฑ์หรือเอกสารกำกับผลิตภัณฑ์ก่อนใช้
"Puritan's Pride Ultra Woman™ Collagen Support ไบโอเซล คอลลาเจนไทป์ 2 รวมกับ กรดไฮยาลูโรนิค เมล็ดองุ่นสกัด และ สารเรสเวอราทรอล"