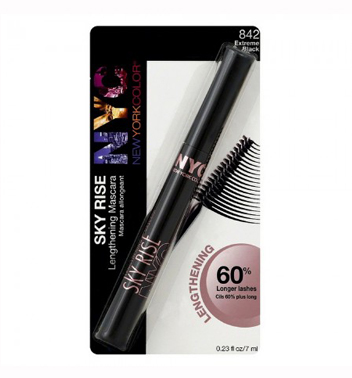 รหัส : 1351180
จาก 299.00 บาท ลดทันที 140 บาท
ราคา 159.00 บาท
New York Color Sky Rise Lenghtening Mascara, Extreme Black [842], 2 แพ็ค
New York Color Sky Rise Lenghtening Mascara, Extreme Black [842] มาสคาร่าสีดำเข้ม ปัดขนตา ยืดขนตาได้รวดเร็วทันใจ ล้างง่าย ยึดติดทน ไม่ทำให้เส้นขนตากรอบ ดูแลและบำรุงขนตาได้ยอดมาก
About the Product
NYC Sky Rise Lengthening Mascara Extreme Black 842
up to 60% Longer Lashes
intense pigments for ultimately dark lashes
precise brush lifts lengthens and seperates lashes.

Top Customer Reviews
By MrsNasci on December 2, 2015
I absolutely love this mascara. I was starting to think I was going to have to give up mascara because every product I tried was flaking and irritating my eyes. Few things worse than applying your eye makeup and then it getting ruined shortly after when your eyes start to itch and water from flakey mascara. However, this lovely mascara saved the day. I can wear this mascara all day without any problems. I highly recommend this product to everyone I know with sensitive eyes.
I purchased it for under two dollars at Walmart - best spontaneous cheap purchase I've made.
Comment Report abuse
By Mia on January 15, 2016
Verified Purchase
This product is fairly satisfactory! Considering how affordable it is, I'm giving it five stars. As of cons, I can't really think of any except that it starts to flake at the end of the day for me (which means it would've already stayed on and well for more than 8 hours), and some of the drug store mascara I used tend to be twice as expensive and not much better in terms of being unflaky. As of its lengthening efficacy, I will tell you this: on its package its marketing promise is lengthening the lashes by 60% and it does just that! I did get a little bit disappointed when I first tried this product on and noticed only moderate change in the length of my lashes, but after I found it said 60% on its package I felt pretty good about this buy. If you are like me whose natural lashes are on the shorter side, chances are that you aren't going to notice much longer lashes simply by using this product. Overall, I'm pretty happy about this buy.
Comment Report abuse
By E. Haynes on August 6, 2015
I don't like mascaras that give the 'thick and clumpy' look that seems so popular right now. I try to keep my makeup light, natural-looking, and appropriate for a daytime/office look. This mascara does the trick. Goes on well, does not smear or smudge, provides a bit of lengthening with no clumps. The overall effect is natural and attractive. You can't beat the price & why spend a lot on something you need to replace so often? This works.
คำเตือน :

- ผลิตภัณฑ์สำหรับใช้ทาภายนอกเท่านั้น ห้ามรับประทาน
- หลีกเลี่ยงการใช้ผลิตภัณฑ์นี้ หากเกิดการแพ้หรือเกิดอาการใดๆที่ไม่พึ่งประสงค์ต่อผิวหนัง
- หากผิวหนังเกิดการระคายเคืองหรือเกิดผลกระทบเป็นผื่น ควรยุติการใช้และแนะนำให้รีบปรึกษาแพทย์
- หลีกเลี่ยงการสัมผัสโดยตรงกับดวงตา
- ห้ามใช้ในเด็กหรือใช้ในสัตว์ เก็บให้พ้นมือเด็ก
- แนะนำเก็บในที่แห้ง อุณหภมิห้องและไม่ให้โดนแสงแดด