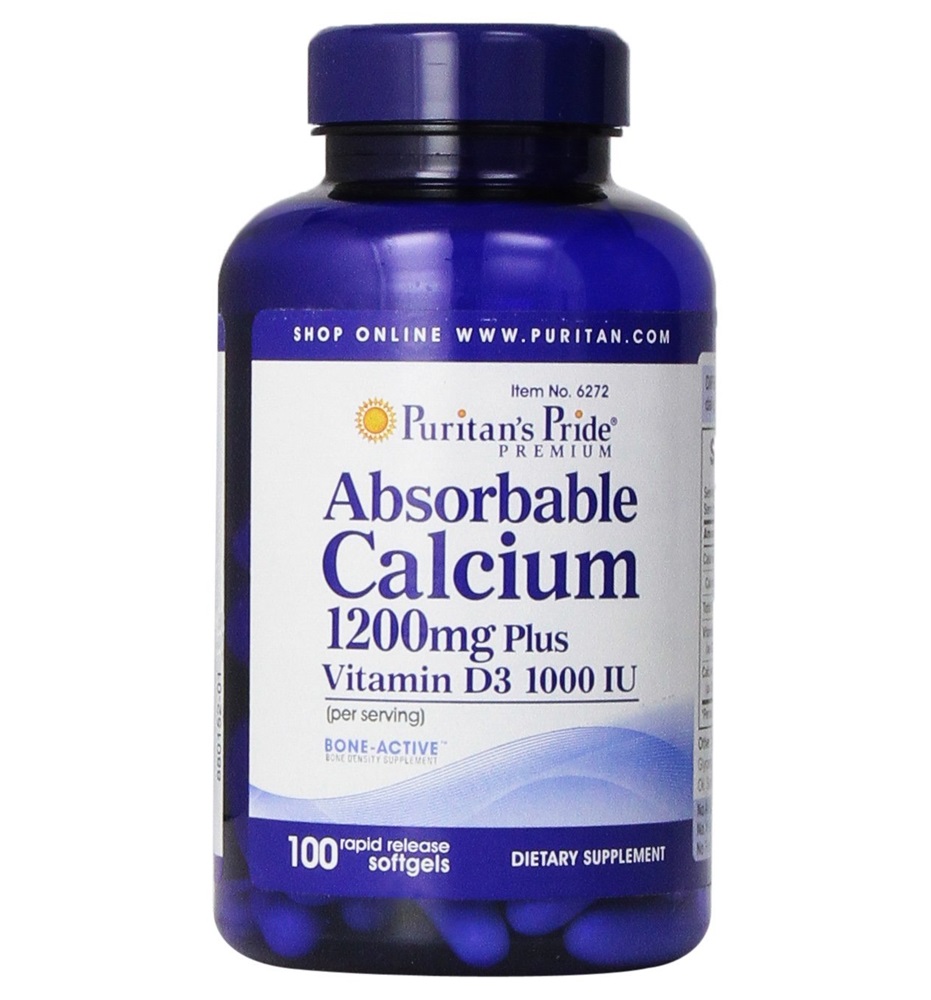 รหัส : 006272
จาก 790.00 บาท ลดทันที 225 บาท
ราคา 565.00 บาท
Puritan's Pride Absorbable Calcium 1200 mg with Vitamin D 1000 IU / 100 Softgels
Puritan's Pride Absorbable Calcium 1200 mg with Vitamin D 1000 IU / 100 Softgels อยู่ ในรูปซอฟท์เจล สามารถดูดซึมเร็วได้ภายในเวลาไม่เกิน 30 นาที หลังจากที่บริโภคเข้าไป แต่ละ softgel มีแคลเซียมเหลวและวิตามินดี ซึ่งจะเสริมแคลเซียมและวิตามินดีช่วยรักษาสุขภาพกระดูกและฟันให้แข็งแรง **
Finally, a liquid Calcium supplement in a convenient softgel form! Less than 30 minutes after ingestion, each rapid dissolving softgel releases pre-dissolved liquid Calcium. Plus, each softgel is fortified with Vitamin D. Calcium and Vitamin D help maintain healthy bones in adults.**
Calcium also plays a role in muscle contractions and nerve impulses, while Vitamin D assists in maintaining a healthy immune system.** Adults can take two softgels daily with a meal.
No Artificial Flavor, No Preservatives, No Sugar, No Starch, No Milk, No Lactose, No Gluten, No Wheat, No Yeast, No Fish, Sodium Free
Supplement Facts

Serving Size 2 Softgels
Servings Per Container 50
Amount Per Serving
% Daily Value
Calories 15
Calories from Fat 10
Total Fat
1 g 2%*
Vitamin D
1,000 IU 250%
(as D3 Cholecalciferol)
Calcium
1,200 mg (1.2 g)120%
(as Calcium Carbonate)
*Percent Daily Values are based on a 2,000 calorie diet.
Directions: For adults, take two (2) softgels daily, preferably with meals.

Other Ingredients: Soybean Oil, Gelatin, Vegetable Glycerin. Contains <2% of: Corn Oil, Mannitol, Sorbitol, Sorbitol Anhydrides, Soy Lecithin, Titanium Dioxide Color, Yellow Beeswax.

WARNING: If you are pregnant, nursing, taking any medications or have any medical condition, consult your doctor before use. Discontinue use and consult your doctor if any adverse reactions occur. Keep out of reach of children. Store at room temperature. Do not use if seal under cap is broken or missing.
คำเตือน
ผลิตภัณฑ์ ดังกล่าวข้างต้นไม่ใช่ ผลิตภัณฑ์ที่จัดว่าเป็นยา จึงไม่ได้มีสรรพคุณในการรักษาโรคใดๆได้ และการได้รับสารอาหารต่างๆควรได้จากการบริโภคอาหารหลักที่หลากชนิด ครบทั้ง 5 หมู่ เป็นสัดส่วนที่พอเหมาะ ผลการใช้อาจให้ผลที่แตกต่างกันในแต่ละบุคคล ควรเก็บไว้ในที่ร่มให้พ้นแสงแดดและความร้อน และ โปรดอ่านคำเตือนบนฉลากผลิตภัณฑ์หรือเอกสารกำกับผลิตภัณฑ์ก่อนใช้