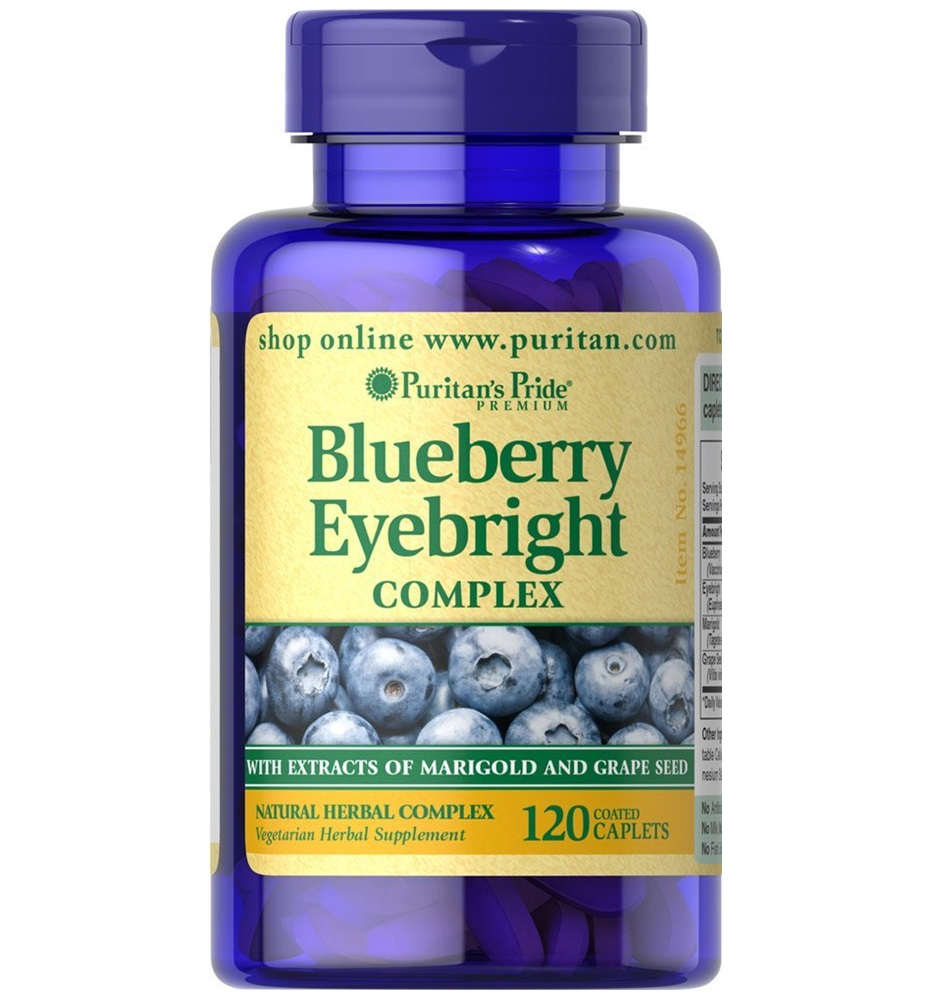 รหัส : 014966
จาก 850.00 บาท ลดทันที 200 บาท
ราคา 650.00 บาท
Puritan's Pride Blueberry Eyebright Complex /120 Caplets
Puritan's Pride Blueberry Eyebright Complex 120 Caplets เป็น สารต้านอนุมูลอิสระที่มีประสิทธิภาพสำหรับเซลล์ในร่างกายของทุกคนรวมทั้ง เซลล์ตา •สารสกัดบลูเบอร์รี่เป็นแหล่งธรรมชาติของสารต้านอนุมูลอิสระที่สำคัญคือ anthocyanins และกรด chlorogenic เพื่อสนับสนุนสุขภาพในประสิทธิการต้านสารอนุมูลอิสระ Eyebright ให้การบำรุงสุขภาพตา ลดการอักเสบของดวงตา เพิ่มเติมเพื่อสุขภาพที่ดี •ดาวเรืองและสารสกัดจากเมล็ดองุ่นจะมีสารอาหารพิเศษสนับสนุนสุขภาพดวงตา ลดสารอนุมูลอิสระที่มาทำลายดวงตา กระจกตา และจอประสาทตา
• Provides powerful antioxidant support for every cell in your body, including the eye's cells**
• Blueberry extract is a natural source of two important phytochemicals, anthocyanins and chlorogenic acid, to support antioxidant health**
• Eyebright provides additional herbal support for good health
• Marigold and Grape Seed extracts are included for extra nutritional support
• Our vegetarian-friendly caplets are coated for ease of swallowing No Artificial Color, Flavor or Sweetener, No Preservatives, No Milk, No Lactose, No Soy, No Gluten, No Wheat, No Yeast, No Fish.
Supplement Facts

Serving Size 2 Caplets
Servings Per Container 60
Amount Per Serving
% Daily Value
Blueberry
2,000 mg (2.0 g) **
(Vaccinium spp.)Vaccinium myrtillus) (fruit)
(From 400 mg of a 5:1 Extract)
Eyebright
1,000 mg (1.0 g) **
(Euphrasia officinalis) (aerial)
(From 200 mg of a 5:1 Extract)
Marigold
400 mg **
(Calendula officinalis) (flower)
(From 80 mg of a 5:1 Extract)
Grape Seed
200 mg **
(Vitis vinifera) (seed)
(From 40 mg of a 5:1 Extract)*
**Daily Value not established.
Directions: For adults, take two (2) caplets daily, preferably with a meal.
Other Ingredients: Dextrose, Dicalcium Phosphate, Vegetable Cellulose, Silica, Vegetable Stearic Acid, Vegetable Magnesium Stearate.
WARNING: Not intended for use by pregnant or nursing women. If you are taking any medications, consult your doctor before use. Avoid this product if you are allergic to ragweed or daisy-like flowers. Discontinue use and consult your doctor if any adverse reactions occur. Not intended for use by persons under the age of 18. Keep out of reach of children. Store in a cool, dry place. Do not use if seal under cap is broken or missing.
คำเตือน
ผลิตภัณฑ์ ดังกล่าวข้างต้นไม่ใช่ ผลิตภัณฑ์ที่จัดว่าเป็นยา จึงไม่ได้มีสรรพคุณในการรักษาโรคใดๆได้ และการได้รับสารอาหารต่างๆควรได้จากการบริโภคอาหารหลักที่หลากชนิด ครบทั้ง 5 หมู่ เป็นสัดส่วนที่พอเหมาะ ผลการใช้อาจให้ผลที่แตกต่างกันในแต่ละบุคคล ควรเก็บไว้ในที่ร่มให้พ้นแสงแดดและความร้อน และ โปรดอ่านคำเตือนบนฉลากผลิตภัณฑ์หรือเอกสารกำกับผลิตภัณฑ์ก่อนใช้