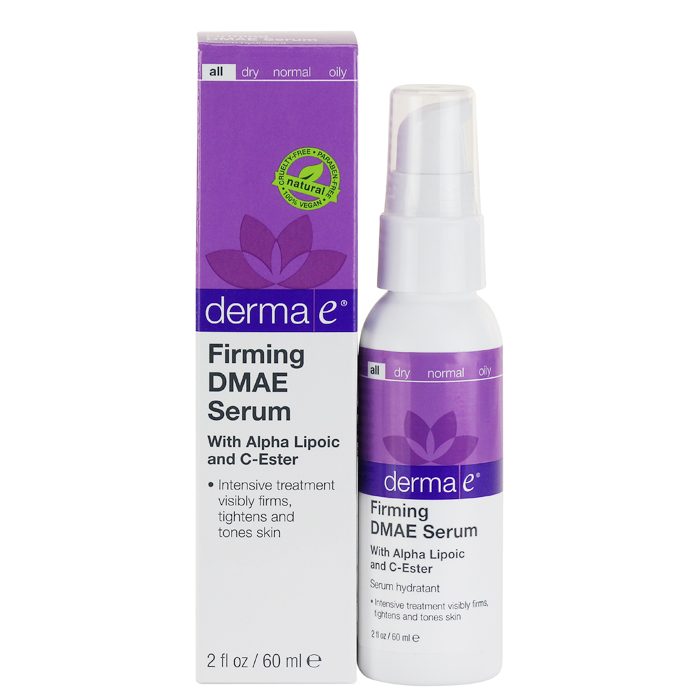 รหัส : 036623
จาก 1,190.00 บาท ลดทันที 200 บาท
ราคา 990.00 บาท
Derma E® Firming Serum with DMAE, Alpha Lipoic and C-Ester 2 fl oz Serum
Derma E® Firming Serum จะช่วยรักษาความชุ่มชื่น กระชับผิวพรรณและผิวดูกระจ่างใสอ่อนวัย ดูดซึมได้ง่าย Derma E® Firming Serum มี ส่วนประกอบมากมายได้แก่ Lemongrass, Chamomile, Horsetail herbal extract และวิตามินบำรุงผิวให้ชุ่มชื้น ในขณะที่ช่วยส่งเสริมความยืดหยุ่นของผิวหนัง สูตร Firming Serum สามารถนำมาใช้รวมกันกับ Derma moisturizers E เพื่อเพิ่มประสิทธิภาพการบำรุงผิวให้ดีขึ้น

From the Manufacturer:
Retexturizing Moisturizer
Helps Firm, Tighten and Tone
This intensive hydrating formula helps tighten and tone skin. Easily absorbed, this silky serum is fortified with Lemongrass, Chamomile, Horsetail herbal extract, and skin vitamins to provide light hydration while helping to promote elasticity.
Widely-acclaimed DMAE and Alpha Lipoic Acid are combined with C-Ester in this nourishing and silky light formula that hydrates your skin while helping to promote elasticity.
An intensive firming formula that can be used in combination with other Derma E moisturizers to enhance their effect. May also be used alone for those with oily or blemish-prone skin.
Cruelty-free, Paraben-free, Eco-friendly
Manufactured by Derma E®.
Paraben Free
Directions: Pump a small amount of Firming Serum onto the fingertips and apply to the entire face and throat in light upward strokes. Use this special treatment serum to fortify and enhance the effects of your favorite derma e moisturizing crème, or use it on its own for oily or blemish-prone skin. Use twice daily.

Other Ingredients: Purified Water (Aqua), Glycerin, Caprylic/Capric Triglyceride, Macadamia Ternifolia Seed Oil, Cetyl Alcohol, Dimethyl MEA (DMAE), Thioctic (Alpha Lipoic) Acid, Ascorbyl Palmitate (C-Ester), Equisetum Arvense (Horsetail) Extract, Aesculus Hippocastanum (Horse Chestnut) Seed Extract, Panthenol (Provitamin B5), Cymbopogon Schoenanthus (Lemon Grass) Extract, Organic Chamomilla Recutita (Matricaria) Flower Extract* (.1%) Titanium Dioxide, Ammonium Acryloyldimethyltaurate/VP Copolymer (Aristoflex®), Xanthan Gum, Dimethicone, Cetearyl Alcohol, Ceteareth 20, Potassium Sorbate, Phenoxyethanol, Ethylhexlglycerin, Lavender Frangrance. *Certified Organic by Quality Assurance International of USDA.
WARNING: Keep out of reach of children. Store at room temperature. Do not use if seal under cap is broken or missing.
คำเตือน :

- ผลิตภัณฑ์สำหรับใช้ทาภายนอกเท่านั้น ห้ามรับประทาน
- หลีกเลี่ยงการใช้ผลิตภัณฑ์นี้ หากเกิดการแพ้หรือเกิดอาการใดๆที่ไม่พึ่งประสงค์ต่อผิวหนัง
- หากผิวหนังเกิดการระคายเคืองหรือเกิดผลกระทบเป็นผื่น ควรยุติการใช้และแนะนำให้รีบปรึกษาแพทย์
- หลีกเลี่ยงการสัมผัสโดยตรงกับดวงตา
- ห้ามใช้ในเด็กหรือใช้ในสัตว์ เก็บให้พ้นมือเด็ก
- แนะนำเก็บในที่แห้ง อุณหภมิห้องและไม่ให้โดนแสงแดด