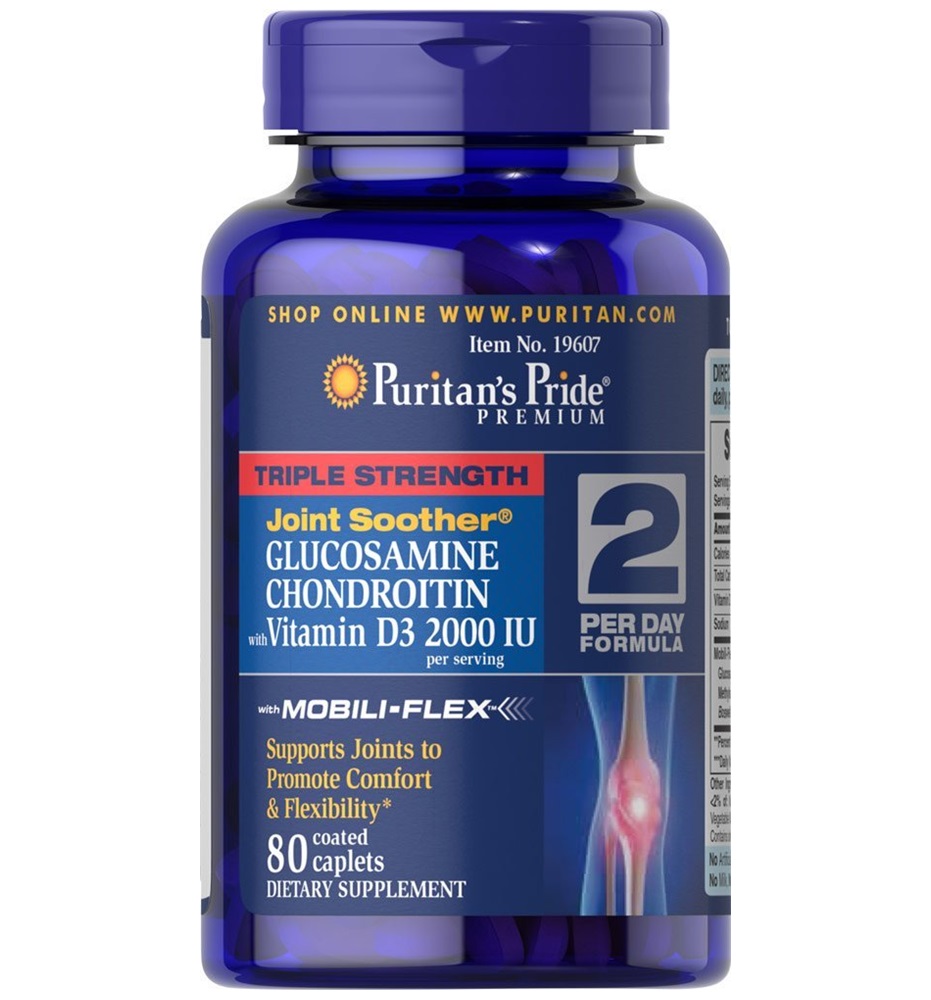 รหัส : 019607
จาก 790.00 บาท ลดทันที 200 บาท
ราคา 590.00 บาท
Puritan's Pride Triple Strength Glucosamine Chondroitin with Vitamin D3 / 80 Caplets

Puritan's Pride Triple Strength Glucosamine Chondroitin with Vitamin D3 / 80 Caplets เป็นสูตรเข้มข้นพิเศษสำหรับบำรุงข้อกระดูก ส่วนประกอบคือ Mobili-Flex™ ( ที่รวมทั้ง Glucosamine HCl, Chondroitin Sulfate, Methylsulfonylmethane (MSM), และBoswellia serrata Extract ) และ Vitamin D (as D3 Cholecalciferol) ซึ่งส่วนประกอบดังกล่าวนั้น แต่ละตัวมีความจำเป็นสำคัญที่ช่วยในการสร้างกระดูก บำรุงข้อต่อต่างๆ และช่วยสร้างกระดูกอ่อนบริเวณหัวกระดูก จึงสามารถลดอาการปวดจากข้อกระดูกเสื่อมได้อย่างมีประสิทธิภาพ และที่สำคัญเป็นสูตร Triple Strength ที่สามารถรับประทานได้เพียงวันละ 2 เม็ดเท่านั้น มี Mobili-Flex™ สูงถึง 1,875 mg และ มีตัวที่ช่วยการดูดซึมแคลเซียมในการสร้างกระดูก คือ Vit D3 Cholecalciferol สูงถึง 2,000 IU ต่อ 1 serving

Puritan's Pride Triple Strength Glucosamine Chondroitin with Vitamin D3 / 80 Caplets

Triple Strength Glucosamine Chondroitin with Vitamin D3 formula – one serving is only two caplets per day

Contains Mobili-Flex™, a proprietary blend that lubricates joints to promote comfort and flexibility**

Glucosamine HCL, Chondroitin Sulfate and Boswellia Serrata Extract work together to support joint and cartilage health**

Added benefit of 2000 IUs of Vitamin D3 to assist in the absorption of Calcium and help maintain healthy bones in adults**

Also contains MSM

Individual Results May Vary.

No Artificial Flavor or Sweetener, No Preservatives, No Sugar, No Milk, No Lactose, No Soy, No Gluten, No Wheat, No Yeast


Supplement Facts

Serving Size 2 Caplets
Servings Per Container 40
Amount Per Serving % Daily Value
Calories 10
Total Carbohydrate 2 g 1%**

- Vitamin D (as D3 Cholecalciferol) 2,000 IU 500%
Sodium 10 mg 1%
- Mobili-Flex™ Proprietary Blend: 1,875 mg (1.87g) ***
(Glucosamine HCl, Chondroitin (Sulfate,Methylsulfonylmethane (MSM),Boswellia serrata Extract (resin)

**Percent Daily Values are based on a 2,000 calorie diet.
**Daily Value not established.


Directions: For adults, take two (2) caplets daily, preferably with a meal.

Other Ingredients: Vegetable Cellulose, Crospovidone. Contains <2% of: Natural Palm Leaf Glaze, Silica, Titanium Dioxide Color, Vegetable Magnesium Stearate. Contains shellfish (shrimp, crab, lobster, crayfish) ingredients.

WARNING: If you are pregnant, nursing, taking any medications, including blood thinners, or have any medical condition, consult your doctor before use. Discontinue use and consult your doctor if any adverse reactions occur. Not intended for use by persons under the age of 18. Keep out of reach of children. Store at room temperature. Do not use if seal under cap is broken or missing.
คำเตือน
ผลิตภัณฑ์ ดังกล่าวข้างต้นไม่ใช่ ผลิตภัณฑ์ที่จัดว่าเป็นยา จึงไม่ได้มีสรรพคุณในการรักษาโรคใดๆได้ และการได้รับสารอาหารต่างๆควรได้จากการบริโภคอาหารหลักที่หลากชนิด ครบทั้ง 5 หมู่ เป็นสัดส่วนที่พอเหมาะ ผลการใช้อาจให้ผลที่แตกต่างกันในแต่ละบุคคล ควรเก็บไว้ในที่ร่มให้พ้นแสงแดดและความร้อน และ โปรดอ่านคำเตือนบนฉลากผลิตภัณฑ์หรือเอกสารกำกับผลิตภัณฑ์ก่อนใช้