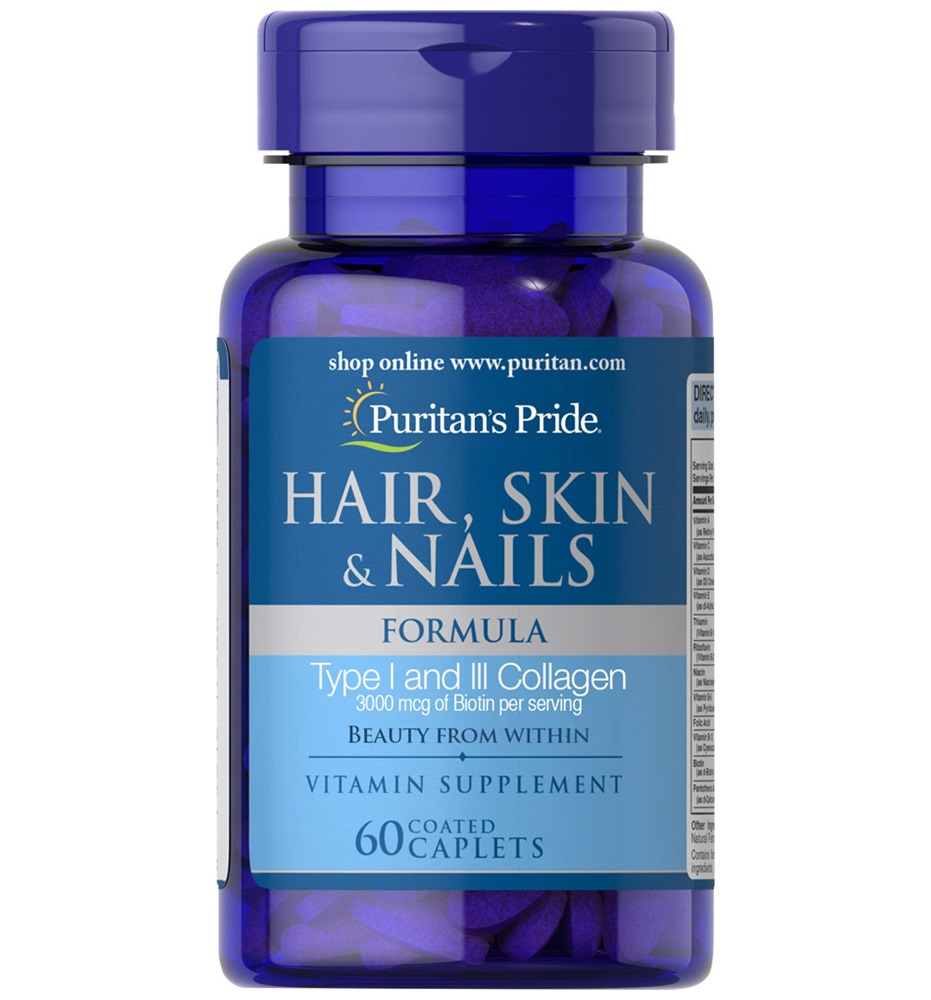 รหัส : 007580
จาก 535.00 บาท ลดทันที 200 บาท
ราคา 335.00 บาท
Puritan's Pride Hair, Skin & Nails Formula 60 Caplets
ผลิตภัณฑ์บำรุงเส้นผม ผิวหนังและเล็บ Puritan's Pride Hair, Skin & Nails Formula 60 Caplets โดย ลูกค้าแนะนำมาเอง สามารถแก้ปัญหาผมร่วง คนผมบาง หัวล้าน อย่างได้ผล อยากให้ดีใช้ร่วมกับ Horsetail ,Brewer Yeast ,Omega ,Biotin , Zinc และ Fo-Ti อย่าปล่อยให้เส้นผมของคุณค่อยๆร่วงไปทุกๆวันโดยไม่แก้ไขหรือป้องกัน เพราะวันที่มันแย่ชนิดถาวรแล้วคุณจะตกใจ เหมือนกับป่าไม้ที่ปล่อยให้ตัดกันจนเขาโล้นเต็มไปหมด แล้วร้องไห้ให้ตายมันก็ไม่กลับมาเหมือนเก่า การใช้ร่วมกันกับตัวอื่นพิจารณาเป็นเคสๆไป สามารถส่งอีเมลมาสอบถามถึงการใช้ Puritan's Pride Hair, Skin & Nails Formula 60 Caplets ร่วมกับอาหารเสริมชนิดอื่นได้ หากใช้ถูกสูตรรับรองเห็นผลภาย 3-4 สัปดาห์
Puritan's Pride Hair, Skin & Nails Formula 60 Caplets
A wide array of vitamins, minerals and herbal extracts including Niacin and Biotin that support the health and beauty of your hair, skin and nails**
Supplement Facts

Serving Size 3 Caplets
Servings Per Container 20
Amount Per Serving
% Daily Value
Vitamin A (as Retinyl Palmitate)
5,000 IU 100%
Vitamin C (as Ascorbic Acid)
120 mg 200%
Vitamin D (as Cholecalciferol)
100 IU 25%
Vitamin E (as d-Alpha Tocopheryl Acetate)
15 IU 50%
Thiamin (Vitamin B-1)(as Thiamin Hydrochloride)
5 mg 333%
Riboflavin (Vitamin B-2)
2 mg 118%
Niacin (as Niacinamide)
25 mg 125%
Vitamin B-6 (as Pyridoxine Hydrochloride)
5 mg 250%
Folic Acid
200 mcg 50%
Vitamin B-12 (as Cyanocobalamin)
8 mcg 133%
Biotin (as d-Biotin)
3,000 mcg (3 mg) 1,000%
Pantothenic Acid (as d-Calcium Pantothenate)
15 mg 150%
Calcium (as Calcium Carbonate and Dicalcium Phosphate)
710 mg 71%
Iron (as Ferrous Gluconate)
3 mg 17%
Phosphorus (as Dicalcium Phosphate)
150 mg 15%
Iodine (as Potassium Iodide)
112.5 mcg 75%
Magnesium (as Magnesium Oxide)
100 mg 25%
Zinc (as Zinc Gluconate)
7.5 mg 50%
Selenium (as L-Selenomethionine)
12.5 mcg 19%
Manganese (as Manganese Gluconate)
5 mg 250%
Sodium
10 mg <1%
PABA (Para-Aminobenzoic Acid)
25 mg *
Choline Bitartrate
25 mg *
Inositol
30 mg *
Citrus Bioflavonoids (Citrus spp.) (orange) (fruit)
25 mg *
Rutin
12.5 mg *
Horsetail Extract (Equisetum arvense) (aerial)
3 mg *
Betaine Hydrochloride
25 mg *
Collagen (Hydrolyzed Gelatin)
45 mg *
Chlorophyll (as Sodium Copper Chlorophyllin)
5 mg *
*Daily Value not established.
Directions: For adults, take three (3) caplets daily, preferably with meals. .
Other Ingredients: Vegetable Cellulose, Silica, Vegetable Magnesium Stearate.
WARNING: If you are pregnant, nursing, taking any medications or planning any medical procedure, consult your doctor before use. Discontinue use and consult your doctor if any adverse reactions occur. Not intended for use by persons under the age of 18. Keep out of reach of children. Store in a cool, dry place. Do not use if seal under cap is broken or missing. WARNING: Accidental overdose of iron-containing products is a leading cause of fatal poisoning in children under six. KEEP THIS PRODUCT OUT OF REACH OF CHILDREN. In case of accidental overdose, call a doctor or Poison Control Center immediately.
คำเตือน
ผลิตภัณฑ์ ดังกล่าวข้างต้นไม่ใช่ ผลิตภัณฑ์ที่จัดว่าเป็นยา จึงไม่ได้มีสรรพคุณในการรักษาโรคใดๆได้ และการได้รับสารอาหารต่างๆควรได้จากการบริโภคอาหารหลักที่หลากชนิด ครบทั้ง 5 หมู่ เป็นสัดส่วนที่พอเหมาะ ผลการใช้อาจให้ผลที่แตกต่างกันในแต่ละบุคคล ควรเก็บไว้ในที่ร่มให้พ้นแสงแดดและความร้อน และ โปรดอ่านคำเตือนบนฉลากผลิตภัณฑ์หรือเอกสารกำกับผลิตภัณฑ์ก่อนใช้