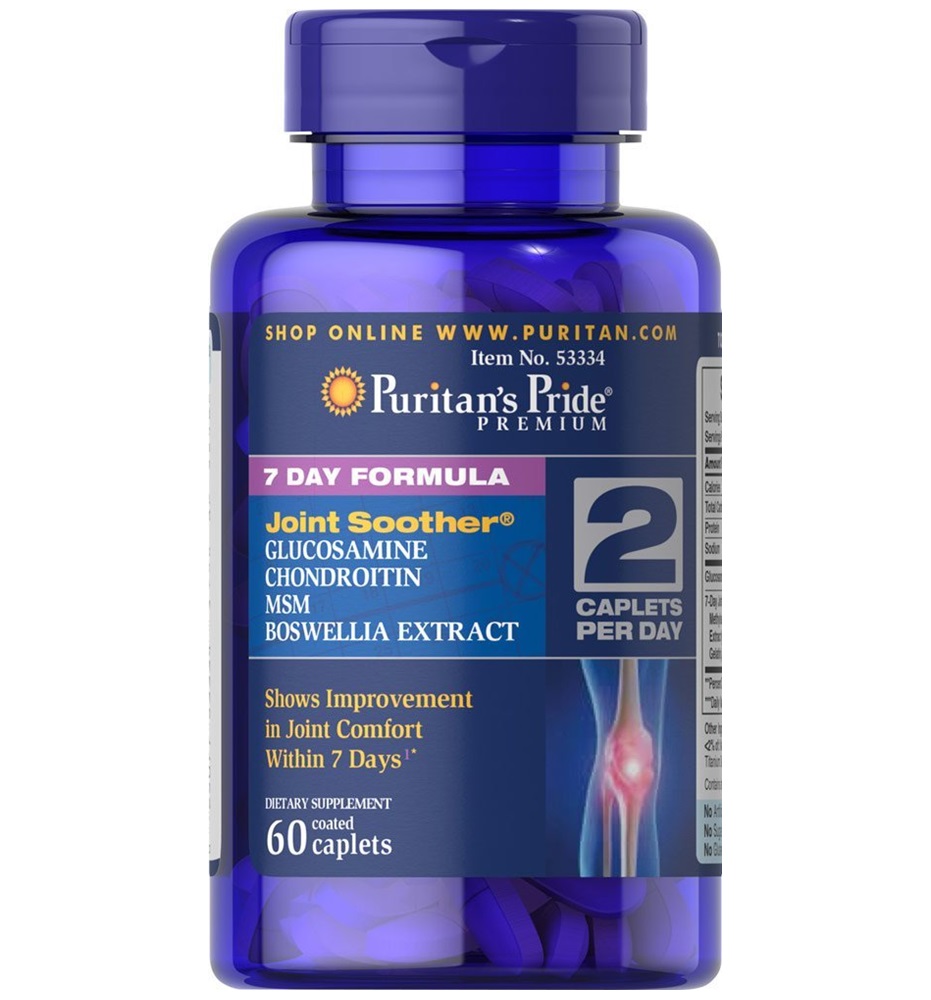 รหัส : 053334
จาก 975.00 บาท ลดทันที 300 บาท
ราคา 675.00 บาท
Puritan's Pride 7 Day Formula Joint Soother Glucosamine, Chondroitin, MSM & Boswellia / 60 Caplets
Puritan's Pride 7 Day Formula Joint Soother Glucosamine, Chondroitin, MSM & Boswellia / 60 Caplets เป็นสูตรอาหารเสริมเพื่อบำรุงสุขภาพที่พัฒนาขึ้นเป็นพิเศษเพื่อช่วยบำรุง ข้อ เส้นเอ็น กระดูกอ่อนและกระดูก ส่งเสริมความคล่องตัวในการเคลื่อนไหวและความยืดหยุ่นของข้อต่อ เส้นเอ็นต่างๆ เพื่อให้รู้สึกง่ายสบายขึ้นต่อการเคลื่อนไหว และแต่ละเม็ดจะเป็นชนิดเคลือบเหล่านี้มี Glucosamine ที่เป็นส่วนผสมที่สำคัญสำหรับข้อต่อและกระดูกอ่อนและสารสกัดจาก Boswellia เพื่อเสริมฤทธิ์กัน นอกจากนี้ยังมี MSM และ Chondroitin ที่ช่วยสนับสนุนสุขภาพของข้อต่อกระดูกอ่อน ซึ่งสามารถเกิดการเสื่อมเนื่องจากอายุที่สูงขึ้นและอาจเกิดจากการสวมใส่รองเท้าในชีวิตประจำวันและการฉีกขาดเนื่องจากการใช้แรงที่ผิดท่า หรือจากการออกกำลังกาย Joint Soother® 7-Day Formula จะสามารถทำให้ท่านรู้สึกมีอาการดีขึ้นจากเดิมได้ภายใน 7 วัน! รับประทานเพียงวันละ 2 เม็ดเท่านั้น...อย่างไรก็ตามผลการใช้อาจแตกต่างกันในแต่ละบุคคลขึ้นอยู่กับสาเหตุต่างๆกัน
Puritan's Pride 7 Day Formula Joint Soother Glucosamine, Chondroitin, MSM & Boswellia / 60 Caplets
Shows Improvement in Joint Comfort in 7 Days1**
Promotes Mobility and Flexibility**
Supports Joint Health
Supports Joint Comfort
Glucosamine
Chondroitin
MSM
Boswellia Extract
Coated Caplets
2-Per Day Formula
Joint Soother® 7-Day Formula is a comprehensive joint health formula specially developed to help nourish your joints and cartilage to promote mobility and flexibility for easy, comfortable movement.** These coated caplets feature Glucosamine, a key ingredient for nourishing joints and cartilage** and Boswellia Extract to support joint function.** The special blend in Joint Soother also includes MSM and Chondroitin, making it a great choice for supporting healthy joints and joint cartilage, which can be affected by the natural aging process and everyday wear and tear.** When taken as part of your daily supplement schedule, Joint Soother 7-Day shows improvement in joint comfort within 7 days!1** Individual results may vary. 60 coated caplets.
1Based on two human studies with Boswellia serrata extract where subjects rated their joint health over time, subjects' joint health improved within 7 days, and continued to improve throughout the duration of the studies.
No Artificial Flavor or Sweetener, No Preservatives, No Sugar, No Starch, No Milk, No Lactose, No Soy, No Gluten, No Wheat, No Yeast.
Supplement Facts

Serving Size 2 Caplets

Servings Per Container 30

Amount Per Serving

% Daily Value

Calories 10

Total Carbohydrate

1 g <1%**

Protein

<1 g 2%**

Sodium

5 mg <1%

Glucosamine HCl

1,500 mg (1.5 g) ***

7-Day Joint Soother® Blend: Methylsulfonylmethane (MSM), Boswellia serrata Extract (resin), Chondroitin Sulfate, Collagen (Hydrolyzed Gelatin), Citrus Bioflavonoid Extract (Citrus limon) (rind)

1,100 mg (1.1 g) ***

**Percent Daily Values are based on a 2,000 calorie diet.

***Daily Value not established.
Directions: For adults, take two (2) caplets daily, preferably with a meal.

Other Ingredients: Vegetable Cellulose, Povidone. Contains <2% of: Natural Caramel Color, Natural Palm Leaf Glaze, Silica, Titanium Dioxide Color, Vegetable Magnesium Stearate. Contains shellfish (crab, crayfish, lobster, shrimp) ingredients.

WARNING: If you are pregnant, nursing, taking any medications, including blood thinners, or have any medical condition, consult your doctor before use. Discontinue use and consult your doctor if any adverse reactions occur. Not intended for use by persons under the age of 18. Keep out of reach of children. Store at room temperature. Do not use if seal under cap is broken or missing.
คำเตือน
ผลิตภัณฑ์ ดังกล่าวข้างต้นไม่ใช่ ผลิตภัณฑ์ที่จัดว่าเป็นยา จึงไม่ได้มีสรรพคุณในการรักษาโรคใดๆได้ และการได้รับสารอาหารต่างๆควรได้จากการบริโภคอาหารหลักที่หลากชนิด ครบทั้ง 5 หมู่ เป็นสัดส่วนที่พอเหมาะ ผลการใช้อาจให้ผลที่แตกต่างกันในแต่ละบุคคล ควรเก็บไว้ในที่ร่มให้พ้นแสงแดดและความร้อน และ โปรดอ่านคำเตือนบนฉลากผลิตภัณฑ์หรือเอกสารกำกับผลิตภัณฑ์ก่อนใช้