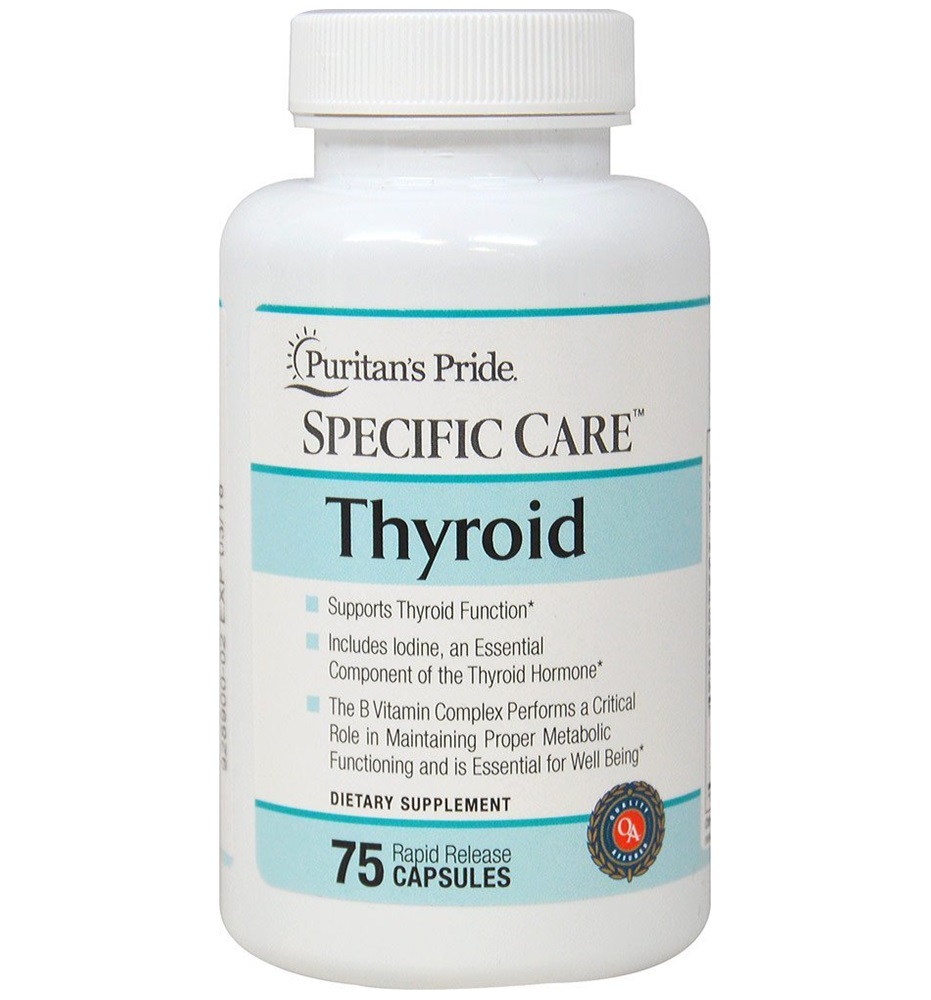 รหัส : 053552
จาก 890.00 บาท ลดทันที 300 บาท
ราคา 590.00 บาท
Puritan's Pride Specific Care™ Thyroid / 75 Capsules
Puritans Pride Specific Care Thyroid / 75 Capsules เสริมกระบวนการเมตาบอลึซึมในร่างกาย มีส่วนผสมของซีลีเนียมที่ช่วยเสริมประสิทธิภาพการทำหน้าที่ของไธรอยด์ฮอร์โมน วิตามินบีรวมในส่วนผสม จะช่วยเสริมหน้าที่ของกระบวนการเมตาบอลึซึ่มที่สำคัญหลายอย่างในร่างกาย อีกทั้งอาหารเสริมชนิดนี้มีส่วนช่วยเสริมหน้าที่สำคัญที่ไธรอยด์ในร่างกายได้ทำ คือ ช่วยเรื่องกระบวนการเผาผลาญพลังงาน การส่งผลทางอารมณ์ และการเปลี่ยนแปลงทางเคมีหลายอย่างในร่างกาย
Puritan's Pride Specific Care™ Thyroid / 75 Capsules
Supports metabolic processes**

With Selenium to support thyroid function**

B-Vitamin Complex for metabolic functioning**
Our Specific Care™ Supplements are formulated for advanced nutrition to help support your specific needs.** Designed for individual focus, Puritan's Pride Specific Care supplements begin and end with top quality ingredients and strict purity standards that you can trust.

The thyroid gland is responsible for regulating many body functions, so it's really important to our overall health and wellbeing. The thyroid plays a key role in metabolism. Thyroid support is crucial to helping our bodies regulate a multitude of energetic, metabolic and also emotional functions.

Puritan's Pride Specific Care™ Thyroid combines Iodine, B-Vitamins, the amino acid L-Tyrosine and natural herbs into one unique formula! A full day's serving of Iodine (150 mcg) supports thyroid function.** Iodine is an essential component of the thyroid hormone that plays a role in growth, development and metabolic processes like body temperature.**

The Specific Care Thyroid capsules contain the Vitamin B Complex because each nutrient in the B Vitamin Complex performs a unique role in maintaining proper metabolic functioning and is essential for well being.**

This exclusive formula also contains selenium and zinc. Selenium is an integral part of thyroid hormone metabolism.** Also, selenium is known to assist with proper utilization of iodine in thyroid function.** Zinc is involved in carbohydrate, protein, fat and energy metabolism.**

A proprietary Thyroid blend that contains L-Tyrosine, Flaxseed, and Ashwagandha Extract completes the formula for these Thyroid Support capsules. No Artificial Color, Flavor or Sweetener, No Preservatives, No Sugar, No Starch, No Milk, No Lactose, No Soy, No Gluten, No Wheat, No Yeast, No Fish.
WARNING: If you are pregnant, nursing or taking any medications, consult your doctor before use. Discontinue use and consult your doctor if any adverse reactions occur. Keep out of reach of children. Store in a cool, dry place. Do not use if seal under cap is broken or missing.
Supplement Facts

Serving Size 1 Capsule

Amount Per Serving

% Daily Value

Thiamin

25 mg 1667%

(Vitamin B-1)(as Thiamin Mononitrate)

Riboflavin

25 mg 1471%

(Vitamin B-2)

Niacin (as Niacinamide)

25 mg 125%

Vitamin B-6

25 mg 1250%

(as Pyridoxine Hydrochloride)

Folic Acid

25 mcg 6%

Calcium (as Dicalcium Phosphate) 52mg 5%

Phosphorus

40 mg 4%

(as Dicalcium Phosphate)

Iodine (from Kelp)

150 mcg 100%

Zinc (as Zinc Oxide)

15 mg 100%

Selenium

50 mcg 71%

(as Sodium Selenate)

Thyroid Blend

230 mg

(L-Tyrosine, Flaxseed (Linum usitatissimum),

(Ashwagandha Extract (Withania somnifera)(root),

((Standardized to contain Withanolides, 0.37 mg), Thyroid Powder

**Daily Value not established
Directions: For adults, take one (1) capsule daily, preferably on an empty stomach.


Other Ingredients: Gelatin. Contains <2% of: Silica, Vegetable Magnesium Stearate.
คำเตือน
ผลิตภัณฑ์ ดังกล่าวข้างต้นไม่ใช่ ผลิตภัณฑ์ที่จัดว่าเป็นยา จึงไม่ได้มีสรรพคุณในการรักษาโรคใดๆได้ และการได้รับสารอาหารต่างๆควรได้จากการบริโภคอาหารหลักที่หลากชนิด ครบทั้ง 5 หมู่ เป็นสัดส่วนที่พอเหมาะ ผลการใช้อาจให้ผลที่แตกต่างกันในแต่ละบุคคล ควรเก็บไว้ในที่ร่มให้พ้นแสงแดดและความร้อน และ โปรดอ่านคำเตือนบนฉลากผลิตภัณฑ์หรือเอกสารกำกับผลิตภัณฑ์ก่อนใช้