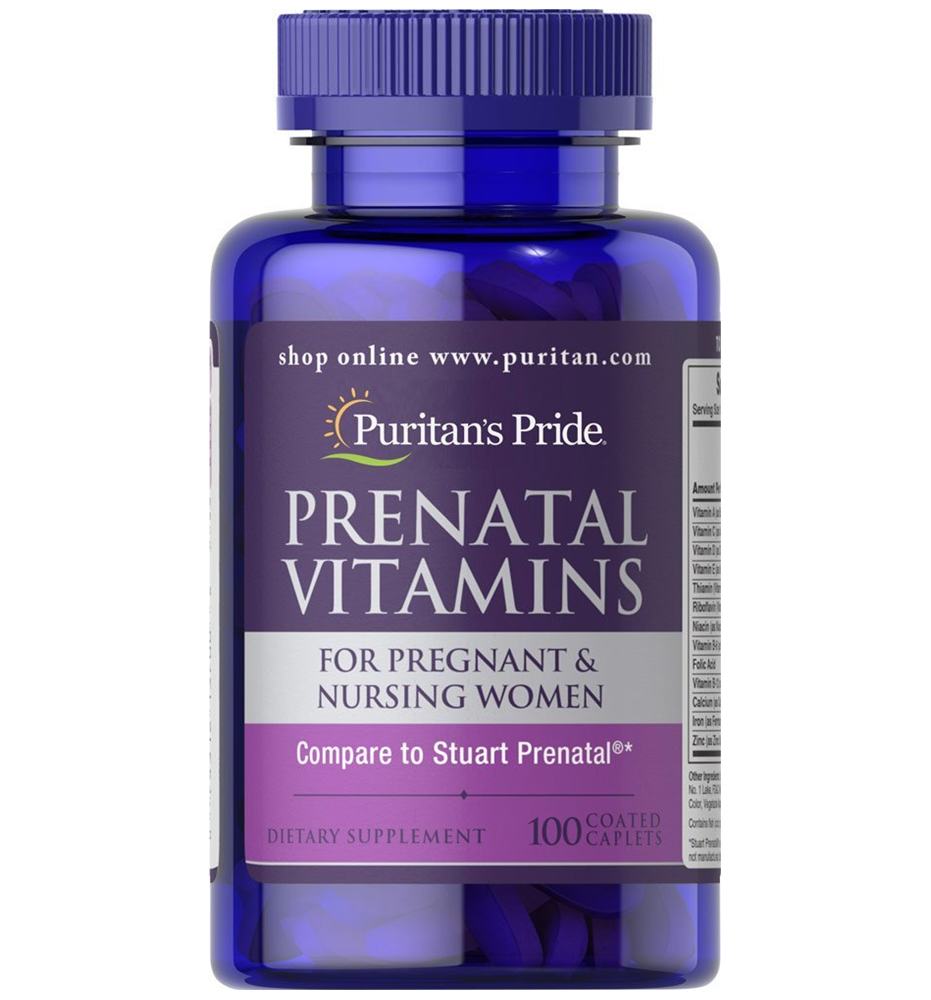 รหัส : 003700
จาก 675.00 บาท ลดทันที 200 บาท
ราคา 475.00 บาท
Puritan's Pride Prenatal Vitamins / 100 Caplets
Puritan's Pride Prenatal Vitamins / 100 Caplets อาหารเสริมวิตามินและแร่ธาตุรวมที่เหมาะกับสตรีมีครรภ์ วิตามินทุกตัวและแร่ธาตุที่เป็นองค์ประกอบในสูตรจะมีความจำเป็นและเป็น ประโยชน์สำหรับสตรีที่ตั้งครรภ์และทารกในครรภ์ Puritan's Pride Prenatal Vitamins มีความปลอดภัยต่อแม่และทารกในครรภ์

Puritan's Pride Prenatal Vitamins / 100 Caplets
This supplement is an excellent source of some of the nutrients you may need during pregnancy and lactation.**
PRENATAL VITAMINS are a good source of Calcium, one of the most important minerals in your body, and Vitamin D, which assists in the absorption of Calcium.** In addition, PRENATAL VITAMINS contain Iron, a vital component of hemoglobin that plays a key role in energy metabolism.** PRENATAL VITAMINS also contains Folic Acid, an important vitamin for women.** Healthful diets with adequate folate may reduce a woman's risk of having a child with a brain or spinal cord birth defect.
Compare and save!
No Artificial Flavor, No Preservatives, No Sugar, No Milk, No Lactose, No Soy, No Gluten, No Wheat, No Yeast, No Shellfish, Sodium Free.
Supplement Facts

Serving Size 1 Caplet
Amount Per Serving
Vitamin A
4,000 IU 50%
(as Beta-Carotene)
Vitamin C
120 mg 200%
(as Ascorbic Acid)
Vitamin D
400 IU 100%
(as D3 Cholecalciferol)
Vitamin
E 30 IU 100%
(as dl-Alpha Tocopheryl Acetate)
Thiamin (Vitamin B-1)
1.8 mg 106%
(as Thiamin Mononitrate)
Riboflavin
1.7 mg 85%
(Vitamin B-2)
Niacin
20 mg 100%
(as Niacinamide)
Vitamin B-6
2.6 mg 104%
(as Pyridoxine Hydrochloride)
Folic Acid
800 mcg 100%
Vitamin B-12
8 mcg 100%
(as Cyanocobalamin)
Calcium
200 mg 15%
(as Calcium Carbonate)
Iron
28 mg 156%
(as Ferrous Fumarate)
Zinc
25 mg 167%
(as Zinc Oxide)
*Daily Value not established
Directions: For adults, take one (1) caplet daily, preferably with a meal. As a reminder, discuss the supplements and medications you take with your health care providers.
Other Ingredients: Vegetable Cellulose Contains <2% of: Calcium Silicate, FD&C Blue No. 1 Lake, FD&C Red No. 40 Lake, FD&C Yellow No. 6 Lake, Gelatin, Titanium Dioxide Color, Vegetable Magnesium Stearate, Vegetable Stearic Acid. Contains fish (cod, pollock, haddock, hake, cusk, redfish, sole, flounder) ingredients.
WARNING: If you are pregnant, nursing, taking any medications, planning any medical procedure or have any medical condition, consult your doctor before use. Discontinue use and consult your doctor if any adverse reactions occur. STORE AT ROOM TEMPERATURE. DO NOT USE IF SEAL UNDER CAP IS BROKEN OR MISSING. WARNING: Accidental overdose of iron-containing products is a leading cause of fatal poisoning in children under six. KEEP THIS PRODUCT OUT OF REACH OF CHILDREN. In case of accidental overdose, call a doctor or Poison Control Center immediately.
คำเตือน
ผลิตภัณฑ์ ดังกล่าวข้างต้นไม่ใช่ ผลิตภัณฑ์ที่จัดว่าเป็นยา จึงไม่ได้มีสรรพคุณในการรักษาโรคใดๆได้ และการได้รับสารอาหารต่างๆควรได้จากการบริโภคอาหารหลักที่หลากชนิด ครบทั้ง 5 หมู่ เป็นสัดส่วนที่พอเหมาะ ผลการใช้อาจให้ผลที่แตกต่างกันในแต่ละบุคคล ควรเก็บไว้ในที่ร่มให้พ้นแสงแดดและความร้อน และ โปรดอ่านคำเตือนบนฉลากผลิตภัณฑ์หรือเอกสารกำกับผลิตภัณฑ์ก่อนใช้