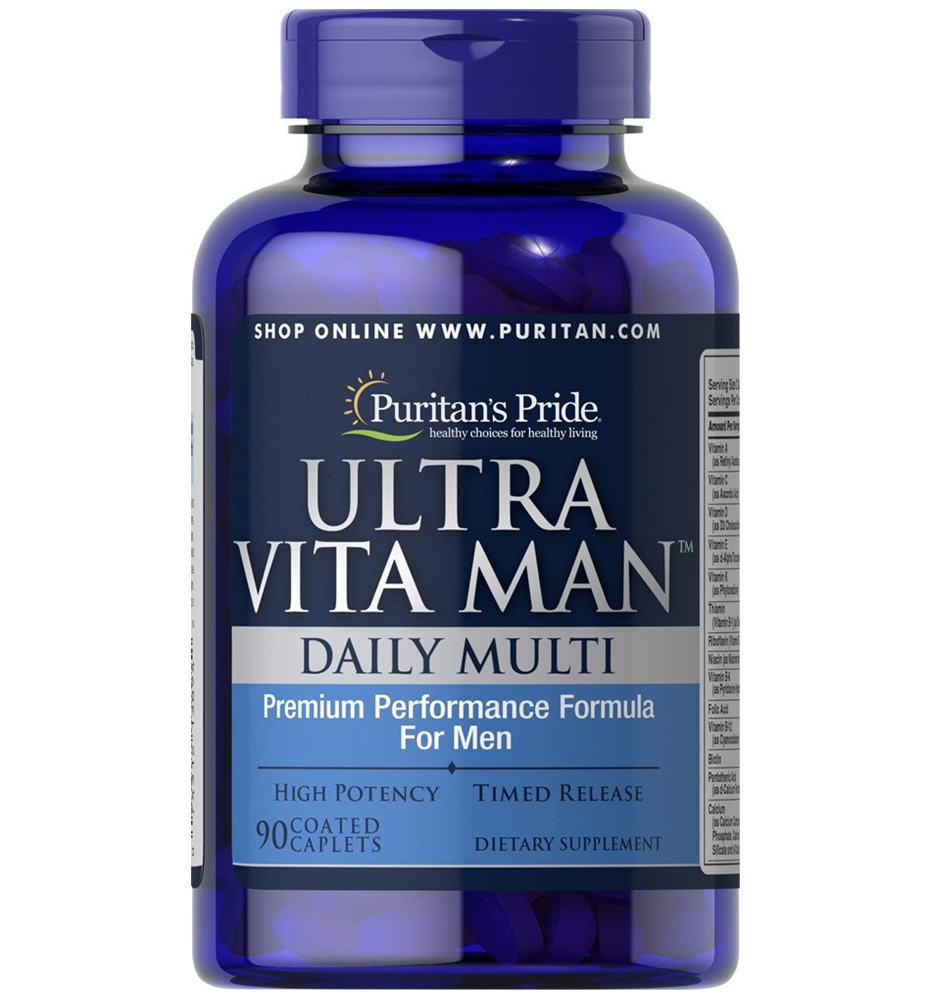 รหัส : 003894
จาก 975.00 บาท ลดทันที 300 บาท
ราคา 675.00 บาท
Puritan's Pride Ultra Vita Man™ Time Release / 90 Caplets
Puritan's Pride Ultra Vita Man™ Time Release / 90 Caplets เป็นสูตรพิเศษวิตามินและแร่ธาตุรวมเข้มข้น พัฒนาขึ้นสำหรับบำรุงร่างกายโดยรวมในสุภาพบุรุษ รวมไปถึงบำรุงให้สดชื่น กระปี้กระเป่า บำรุงสุขภาพทางเพศให้ปกติ ช่วยฟื้นฟูผู้ที่ป่วยหรือกำลังจะฟื้นจากการป่วย เป็นทั้งสารต้านอนุมูลอิสระ และช่วยเสริมภูมิคุ้มกันให้แก้ร่างกาย
Puritan's Pride Ultra Vita Man™ Time Release 90 Caplets
The high potency multivitamin / multimineral formula designed specifically for a man's nutritional needs.**
This exceptional time-release formula delivers vitamins, herbs and minerals that have been shown to be beneficial to men's overall wellness. From antioxidant and immune support to cardiovascular health, Ultra Vita Man is ideal for today's on-the-go men!** Adult men can take two tablets daily.
No Artificial Color, No Preservatives, No Sugar, No Yeast.
Supplement Facts

Serving Size 2 Caplets
Servings Per Container 45
Amount Per Serving
% Daily Value
Vitamin A
5,000 IU 100%
(as Retinyl Acetate and Beta-Carotene)
Vitamin C
300 mg 500%
(as Ascorbic Acid)
Vitamin D
2,000 IU 500%
(as D3 Cholecalciferol)
Vitamin E
30 IU 100%
(as d-Alpha Tocopheryl Acetate)
Vitamin K
75 mcg 94%
(as Phytonadione)
Thiamin
50 mg 3,333%
(Vitamin B-1)(as Thiamin Hydrochloride)
Riboflavin
50 mg 2,941%
(Vitamin B-2)
Niacin
50 mg 250%
(as Niacinamide)
Vitamin B-6
50 mg 2,500%
(as Pyridoxine Hydrochloride)
Folic Acid
400 mcg 100%
Vitamin B-12
100 mcg 1,667%
(as Cyanocobalamin)
Biotin
1,000 mcg 333%
Pantothenic Acid
50 mg 500%
(as d-Calcium Pantothenate)
Calcium
100 mg 10%
(as Calcium Carbonate, Dicalcium
(Phosphate, Calcium Citrate, Calcium
(Silicate and d-Calcium Pantothenate)
Iodine
150 mcg 100%
(as Potassium Iodide)
Magnesium
50 mg 13%
(as Magnesium Oxide)
Zinc
15 mg 100%
(as Zinc Oxide)
Selenium
200 mcg 286%
(as Sodium Selenate)
Copper
2 mg 100%
(as Cupric Oxide)
Manganese
2 mg 100%
(as Manganese Gluconate)
Chromium
200 mcg 167%
(as Chromium Picolinate)
Molybdenum
72 mcg 96%
(as Sodium Molybdate)
Chloride
27 mg 1%
(as Potassium Chloride)
Potassium
30 mg 1%
(as Potassium Chloride)
Alpha Lipoic Acid
10 mg *
Choline
10 mg *
(as Choline Bitartrate)
Inositol
10 mg *
Boron
2 mg *
(as Bororganic Glycine)
Vanadium
10 mcg *
(as Sodium Metavanadate)
Ultra Man Amino Blend
150 mg *
(L-Taurine, L-Glutamine, L-Arginine,
(L-Valine, L-Cysteine, L-Leucine,
(N-Acetyl L-Carnitine Hydrochloride,
(L-Isoleucine, L-Carnitine, L-(Methionine)
Ultra Man Bio-Active Blend
120 mg *
(Pumpkin Seed (Cucurbita pepo),
(Oyster Extract, Saw Palmetto Extract
(Serenoa repens) (fruit), Lycopene)
Antioxidant Blend
120 mg *
(Citrus Bioflavonoid Complex
(Citrus limon) (fruit), Bilberry (Extract (Vaccinium myrtillus) (fruit), Elderberry (Sambucus nigra) (fruit), Black Currant (Ribes nigrum) (fruit), Grape Seed Extract (Vitis (vinifera), Brussels Sprouts Extract, (Kale Extract, Cauliflower Extract, (Celery Seed Extract (Apium (graveolens), Carrot Extract,
(Broccoli Extract, Cabbage Extract,
(Resveratrol from (Polygonum
(cuspidatum) (root),Lutein,(Coenzyme Q-10)
*Daily Value not established
Directions: For adult men, take two (2) caplets daily, preferably with a meal.
Other Ingredients: Vegetable Cellulose, Vegetable Stearic Acid. Contains <2% of: Gelatin, Natural Palm Leaf Glaze, Vanillin, Vegetable Magnesium Stearate. Contains milk, soy and wheat ingredients.
WARNING: This product is intended for use by men and is not intended for use by women. If you are taking any medications, planning any medical procedure or have any medical condition, consult your doctor before use. Discontinue use and consult your doctor if any adverse reactions occur. Not intended for use by persons under the age of 18. Keep out of reach of children. Store at room temperature. Do not use if seal under cap is broken or missing.
คำเตือน
ผลิตภัณฑ์ ดังกล่าวข้างต้นไม่ใช่ ผลิตภัณฑ์ที่จัดว่าเป็นยา จึงไม่ได้มีสรรพคุณในการรักษาโรคใดๆได้ และการได้รับสารอาหารต่างๆควรได้จากการบริโภคอาหารหลักที่หลากชนิด ครบทั้ง 5 หมู่ เป็นสัดส่วนที่พอเหมาะ ผลการใช้อาจให้ผลที่แตกต่างกันในแต่ละบุคคล ควรเก็บไว้ในที่ร่มให้พ้นแสงแดดและความร้อน และ โปรดอ่านคำเตือนบนฉลากผลิตภัณฑ์หรือเอกสารกำกับผลิตภัณฑ์ก่อนใช้