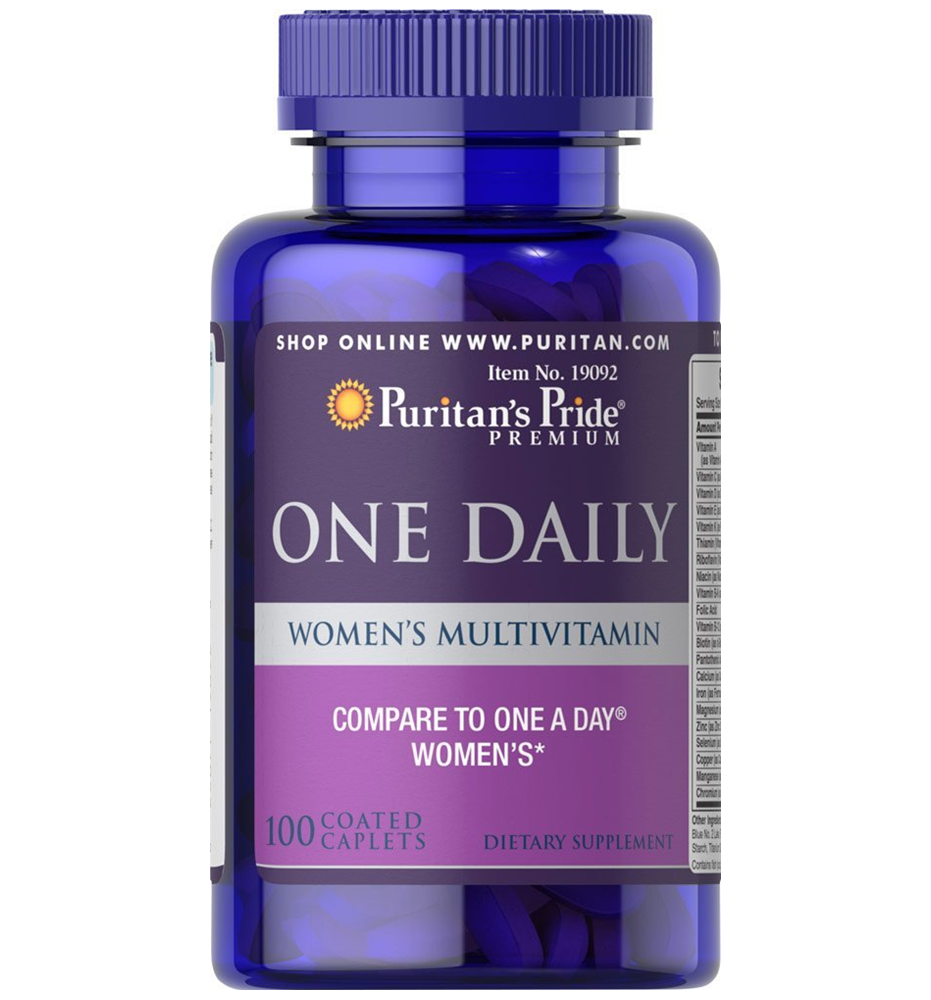 รหัส : 019092
จาก 835.00 บาท ลดทันที 300 บาท
ราคา 535.00 บาท
Puritan's Pride Women's One Daily Multivitamins / 100 Caplets
Puritan's Pride Women's One Daily Multivitamins เป็นอาหารเสริมวิตามินและแร่ธาตรวม (Multivitamin&Mineral) สูตรเข้มข้น โดยมีส่วนประกอบขั้นพื้นฐานที่สำคัญสำหรับสุภาพสตรี Women's One Daily Multivitamins จะรวมเอาวิตามิน ดี ถึง 1000 IU เติมเข้าในสูตร เพื่อเสริมระบบภูมิคุ้มกันและบำรุงกระดูกและฟันให้แข็งแรง อีกทั้งยังมีส่วนผสมของวิตามิน บี ชนิดต่างๆที่มีความจำเป็นต่อร่างกายในกระบวนการเผาผลาญและบำรุงสมอง-เส้น ประสาท โดยรับประทานไม่ต้องยุ่งยากในเวลารีบเร่งแต่เรายังต้องดูแลสุขภาพของเรา Women's One Daily Multivitamins เพียง 1 เม็ดเท่านั้น ในตอนมื้อเช้าพร้อมอาหาร เท่านั้นทุกอย่างก็จะเป็นไปตามกลไกของมัน และคุณจะรู้สึกได้ถึงร่างกายที่แข็งแรงขึ้น

Puritan's Pride Women's One Daily Multivitamins / 100 Caplets
A Convenient Vitamin for the Woman on the Go!
The basis of any nutritional supplement program is a powerful multivitamin – and here's one tailor-made for woman!
Once-daily formula provides a valuable array of vitamins and minerals
Includes 1000 IU of Vitamin D to support bone and immune system health**
Provides 100% of the Daily Value of 5 different B-Vitamins to aid with energy metabolism and nervous system health**
No Artificial Flavor, No Sugar, No Milk, No Lactose, No Gluten, No Wheat, No Yeast, No Shellfish.
Supplement Facts

Serving Size 1 Caplet
Amount Per Serving
% Daily Value
Vitamin A
2,500 IU 50%
(as Vitamin A Acetate and 20% Beta-Carotene)
Vitamin C
60 mg 100%
(as Ascorbic Acid)
Vitamin D
1000 IU 250%
(as D3 Cholecalciferol)
Vitamin E
22.5 IU 75%
(as dl-Alpha Tocopheryl Acetate)
Vitamin K
25 mcg 31%
(as Phytonadione)
Thiamin
1.5 mg 100%
(Vitamin B-1) (as Thiamin Mononitrate)
Riboflavin (Vitamin B-2)
1.7 mg 100%
Niacin (as Niacinamide)
10 mg 50%
Vitamin B-6
2 mg 100%
(as Pyridoxine Hydrochloride)
Folic Acid
400 mcg 100%
Vitamin B-12
6 mcg 100%
(as Cyanocobalamin)
Biotin (as d-Biotin)
30 mcg 10%
Pantothenic Acid
5 mg 50%
(as d-Calcium Pantothenate)
Calcium
500 mg 50%
(as Calcium Carbonate)
Iron
18 mg 100%
(as Ferrous Fumarate)
Magnesium
50 mg 13%
(as Magnesium Oxide)
Zinc
15 mg 100%
(as Zinc Oxide)
Selenium
20 mcg 29%
(as Sodium Selenate)
Copper
2 mg 100%
(as Cupric Sulfate)
Manganese
2 mg 100%
(as Manganese Sulfate)
Chromium
120 mcg 100%
(as Chromium Chloride)
Directions: For Adult Women, take one (1) caplet daily, preferably with a meal.
Other Ingredients: Vegetable Cellulose. Contains <2% of: Crospovidone, FD&C Blue #2 Lake, FD&C Yellow #5 Lake, FD&C Yellow #6 Lake, Gelatin, Silica, Starch, Titanium Dioxide Color, Vegetable Magnesium Stearate. Contains fish (cod, pollock, haddock, hake, cusk, red-fish, sole, flounder)ingredients.
WARNING: Not intended for use by pregnant or nursing women. If you are taking any medications or planning any medical or surgical procedure or have any medical condition, consult your doctor before use. Discontinue use and consult your doctor if any adverse reactions occur. Store at room temperature. Do not use if seal under cap is broken or missing.
WARNING: Accidental overdose of iron-containing products is a leading cause of fatal poisoning in children under six. KEEP THIS PRODUCT OUT OF REACH OF CHILDREN. In case of accidental overdose, call a doctor or Poison Control Center immediately
คำเตือน
ผลิตภัณฑ์ ดังกล่าวข้างต้นไม่ใช่ ผลิตภัณฑ์ที่จัดว่าเป็นยา จึงไม่ได้มีสรรพคุณในการรักษาโรคใดๆได้ และการได้รับสารอาหารต่างๆควรได้จากการบริโภคอาหารหลักที่หลากชนิด ครบทั้ง 5 หมู่ เป็นสัดส่วนที่พอเหมาะ ผลการใช้อาจให้ผลที่แตกต่างกันในแต่ละบุคคล ควรเก็บไว้ในที่ร่มให้พ้นแสงแดดและความร้อน และ โปรดอ่านคำเตือนบนฉลากผลิตภัณฑ์หรือเอกสารกำกับผลิตภัณฑ์ก่อนใช้