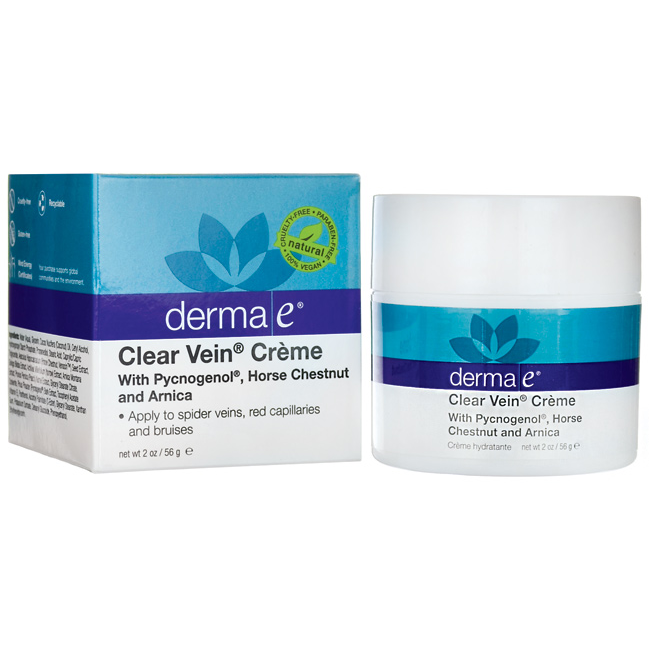 รหัส : DE045
จาก 1,690.00 บาท ลดทันที 400 บาท
ราคา 1,290.00 บาท
Derma E Clear Vein Creme with Pycnogenol, Horse Chestnut and Arnica / 2 oz Cream
Derma E Clear Vein Creme with Pycnogenol, Horse Chestnut and Arnica / 2 oz Cream ผลิตภัณฑ์นวัตกรรมการลดเส้นเลือดขอด ลดการอักเสบของเส้นเลือดฝอย ล้างเลือดเสียที่คั่งค้างในหลอดเลือดดำตามผิวหน้า หรือผิวกาย ไม่มีส่วนประกอบของวิตามินเค เป็นสูตรที่สกัดจากธรรมชาติที่มีสารต้านอนุมูลอิสระมากมาย เช่น Horse Chestnut, Coconut Oil, Yarrow และ Pycnogenol ทั้งยังผสม vitamins ที่มีสรรพคุณบำรุงผิว ต้านอนุมูลอิสระ อีกหลายชนิด มีความสมดุลค่า pH เหมาะกับผิว ธรรมชาติ 100% สามารถการันตีผลการใช้ได้ภายใน 6 สัปดาห์ ปรับการใช้ตามผลลัพธ์ หลังจากใช้ไปแล้ว 2-3 วัน

Does not contain vitamin K

Natural formula featuring horse chestnut, pycnogenol and more

Gluten and cruelty free
Derma E Clear Vein Creme with Pycnogenol, Horse Chestnut and Arnica is safe and effective on any part of the body. This formula is a unique blend of botanicals including Horse Chestnut, Coconut Oil, Yarrow and Pycnogenol plus specific vitamins. Clear Vein Creme is suitable for all skin types and does not contain vitamin K.
All Derma E products are free of parabens, phthalates, sodium lauryl sulfates, petrolatum, mineral oil, artificial colors and GMOs and are pH balanced, 100% vegetarian, gluten free and cruelty free.
Directions for use: Apply to spider veins, red capillaries and bruises twice a day. Can be used under makeup once it has dried down. Allow six weeks to see improvement. After reaching desired results, apply every 2 to 3 days.
Made in the USA of foreign and domestic components
Cruelty-free
Gluten-free
Recyclable
100% vegan
Never any harmful parabens, phthalates, sodium lauryl sulfate, petrolatum, mineral oil, artificial colors or GMOs
Does not contain vitamin K
Pycnogenol® is a registered trademark of Horphag Research, LTD.
Ingredients: Water (Aqua), Glycerin, Cocos Nucifera (Coconut) Oil, Cetyl Alcohol, Hydroxypropyl Starch Phosphate, Propanediol, Stearic Acid, Caprylic/Capric Triglyceride, Aesculus Hippocastanum (Horse Chestnut, Venocin™) Seed Extract, Ginkgo Biloba Extract, Achillea Millefolium (Yarrow) Extract, Arnica Montana Extract, Prunus Persica (Peach) Kernel Extract, Glyceryl Stearate Citrate, Ozokerite, Pinus Pinaster (Pycnogenol®) Bark Extract, Tocopheryl Acetate (Vitamin E), Panthenol, Ascorbyl Palmitate (C-Ester), Glyceryl Stearate, Xanthan Gum, Potassium Sorbate, Cetearyl Glucoside, Phenoxyethanol, Ethylhexylglycerin.
Warnings
For external use only. Avoid contact with eyes.
Discontinue use if you experience skin sensitivity.
Keep out of reach of children.
คำเตือน :

- ผลิตภัณฑ์สำหรับใช้ทาภายนอกเท่านั้น ห้ามรับประทาน
- หลีกเลี่ยงการใช้ผลิตภัณฑ์นี้ หากเกิดการแพ้หรือเกิดอาการใดๆที่ไม่พึ่งประสงค์ต่อผิวหนัง
- หากผิวหนังเกิดการระคายเคืองหรือเกิดผลกระทบเป็นผื่น ควรยุติการใช้และแนะนำให้รีบปรึกษาแพทย์
- หลีกเลี่ยงการสัมผัสโดยตรงกับดวงตา
- ห้ามใช้ในเด็กหรือใช้ในสัตว์ เก็บให้พ้นมือเด็ก
- แนะนำเก็บในที่แห้ง อุณหภมิห้องและไม่ให้โดนแสงแดด