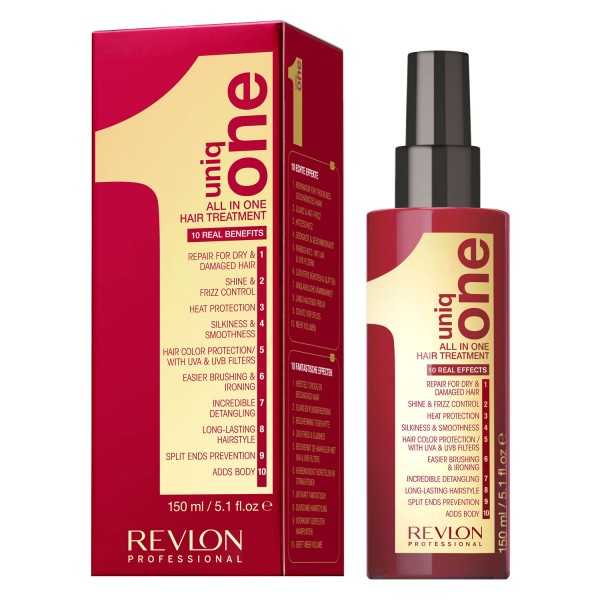 รหัส : 1406915
จาก 949.00 บาท ลดทันที 300 บาท
ราคา 649.00 บาท
Revlon Uniq One All in One Hair Treatment 5.1 oz.
Revlon Uniq One All in One Hair Treatment 5.1 oz. อาหารผมสูตรเข้มข้น เนื้อครีมข้นละเอียดแต่ไม่เหนียวเหนอะหนะ ซึมลึกเข้าสู่เส้นใยผมได้ง่าย ทำให้ผมนุ่มนวล แข็งแรง เงางาม พร้อมปกป้องความร้อนจากไดร์ และแสงแดด
"uniq one - All in one Treatment"
Product description
The Revlon Professional uniq one hair treatment ​is a hair care innovation that meets all your needs from a hair care product. Be it dry, fine, dyed, damaged or oily hair, the hair treatment is suitable for all hair types. The spray combines a solution for ten different hair problems in one product, simplifying everyday hairstyling and creating space in your bathroom cabinet. That's because you now only need one hair product for all of these uses: the uniq one - All in one Treatment.
Repair for dry and damaged hair
Shine & anti-frizz
Heat protection
Silkiness and smoothness
Colour protection with UVA and UVB filter
Easier brushing and straightening
Incredibly easy to comb hair
Long-lasting hairstyles
Protection against split ends
More volume
With these 10 caring treatments, the most important needs of all types of hair are covered and even the most demanding hair is dealt with. The Revlon uniq one spray also impresses genuine hair professionals with its quality and uniqueness. Revlon has written a success story with its uniq one bestseller.
Still not convinced? Then be inspired by the reviews of our customers.
Uniq One All in One treatment provides you with 10 real hair benefits that will help enhance a sublime, stunning, healthy and protected hair. Trying is believing...
Ingredients: Water, Cetearyl Alcohol, Behentrimonium Chloride, Fragrance, Hexyl Cinnamal, Butylphenyl Methylpropional, Alpha-Isomethyl Ionone, Limonene, Linalool, Benzyl Salicylate, Citronellol, Hydroxyisohexyl-3-Cyclohexene Carboxaldehyde, Amyl Cinnamal, Eugenol, Isopropyl Alcohol, Cyclopentasiloxane, Panthenol, Quaternium-80, Silk Amino Acids, Ethylhexyl Methoxycinnamate, Butyl Methoxydibenzoylmethane, Propylene Glycol, Disodium EDTA, Phenoxyethanol, Methlisothiazolinone
Application
The uniq one - All in one Treatment is also an all-rounder when it comes to the application. You can apply the product to wet or dry hair. We recommend using no more than the recommended amount of sprays. Otherwise the hair can become difficult to treat.
Application to wet hair
Spray at a distance of 20 cm. For short hair use approx. 6-8 sprays, for medium-long hair approx. 7-12 sprays, for long hair approx. 10-15 sprays.
Detangle the hair with a comb; use your preferred styling product. Style your hair as usual: Blow dry, straighten or let your hair dry naturally.
Use your preferred finishing product.
Application to dry hair
Spray product onto your palm. For short hair use approx. 2-3 sprays, for medium-length hair approx. 3-5 sprays, for long hair approx. 4-6 sprays.
Distribute the product from halfway to the end of your hair.
If necessary, use a styling product, style the hair with a hair dryer or straightener and/or use a finishing product.
Result
Long-lasting silky, smooth, shiny, healthy and protected hair even when stressed through regular straightening or dyeing. Hair is easier to comb, with good hold, defined curls and volume following use of the uniq one ​​treatment spray.

คำเตือน :

- ผลิตภัณฑ์สำหรับใช้ทาภายนอกเท่านั้น ห้ามรับประทาน
- หลีกเลี่ยงการใช้ผลิตภัณฑ์นี้ หากเกิดการแพ้หรือเกิดอาการใดๆที่ไม่พึ่งประสงค์ต่อผิวหนัง
- หากผิวหนังเกิดการระคายเคืองหรือเกิดผลกระทบเป็นผื่น ควรยุติการใช้และแนะนำให้รีบปรึกษาแพทย์
- หลีกเลี่ยงการสัมผัสโดยตรงกับดวงตา
- ห้ามใช้ในเด็กหรือใช้ในสัตว์ เก็บให้พ้นมือเด็ก
- แนะนำเก็บในที่แห้ง อุณหภมิห้องและไม่ให้โดนแสงแดด